Crane Trucks, Mobile Cranes, Heavy Lifting and Transport Services.
At Crane Hire SA we get the job done on time and within budget.
crane hire Services
Tel: 010 300 0270 Email: quote@cranehire.co.za
Crane Truck Hire
From 8 Ton to 40 Ton Crane trucks for single lifts and long term contracts
Mobile crane hire
Heavy lifters up to 750 Ton mobile cranes. Wind farms, steel structures, heavy lifting.
Cherry Picker hire
Our fleet of cherry pickers include 24m booms on 4×4 trucks ideal for cable repairs and signage construction.
Forklift Hire
Forklifts available from 1.8 Ton to 7 Ton. Larger forklifts and 4 Ton Telehandlers are also available.
Lowbed Transport
Machine moving, Lift and transport solutions for all of your factory move requirements.
big or small we lift it all
Crane Hire Services – Crane trucks, mobile cranes, Spider crane and rigging specialists. There is no job too big or too small for us. Our cranes work predominantly in Johannesburg but are available for work anywhere in South Africa with supply yards located in Boksburg, Pretoria, Alrode and Cape Town. Crane Hire SA offer long term crane truck and mobile crane hire, complex Industrial crane hire services and factory relocation's as well as short term and one off rigging and heavy lifting services.
Our expanded fleet also includes Container sidelifters, Telehandlers, Cherry pickers and Forklift hire which are available for both short term and long term rental.
Crane trucks
Crane trucks from 5 Ton to 40 Ton including all terrain, 4x4 crane trucks and rough terrain crane trucks. Our diverse range of Cranes and crane truck allow us to price our cranes well.
Mobile cranes
Our mobile crane fleet and very experienced operators and red ticket riggers have seen us deliver on some of Africa's most demanding projects and sites.
Telehandlers & Cherry Pickers
Our fleet of Telehandlers and Cherry pickers include up to 20m cherry pickers and 17m 4.5 Ton Telehandlers.
We offer 3 Ton and 6 Ton spider mini cranes along with riggers, operators and our prices include establishment costs both ways. Hire a spider crane from us.
Forklift Hire
Our Foklift fleet includes 1.8 Ton, 3 Ton and 7 Ton forklifts which are available for both short and long term hire. Forklifts can be hired with or without drivers.
Specialist Rigging
Certified, experienced riggers along with the right equipment and resources for the job. Machinery moving and rigging are core to our business and it's success.
Abnormal loads
We transport it all! from aircraft and large trees to Engineering and mining equipment. Our Experienced and commitment red ticket riggers get it done.
Container moving
We move containers on  a daily basis from 6 to 12m containers as well as abnormal specially constructed containers.  Site office moves, food container moves and more.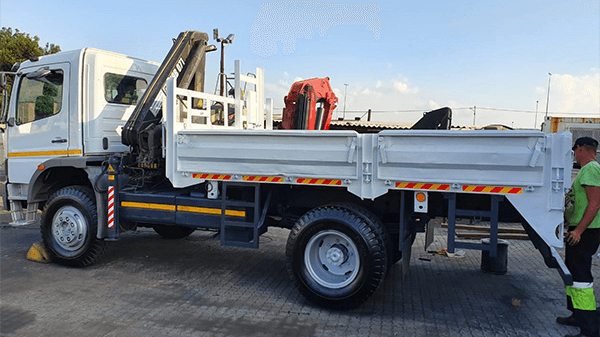 4 x 4 Crane Truck hire
Our fleet of 4 x 4 crane trucks and 4 x 6 crane trucks were specially manufactured for pipeline contracts and Power line stringing but have a multitude of uses in rough terrains.
+27 76 422 5456 (Whatsapp)