Small or large generator transport, Domestic or Industrial.
Johannesburg, Pretoria, Cape Town
Collect, Transport, Offload and Rig into position.
Need a generator transported to a lodge in a Game reserve on top of a mountain? We have you covered.
Full Service
Highly experienced staff are on hand to ensure that your generator is safely delivered and rigged into position.
Generator lift & Transport
Crane Hire SA offer a complete generator collection and delivery service, including lifting, transporting and offloading the generator.
We have the capacity to lift and transport all domestic and industrial size generators up to 36 Tons. If you are not sure how heavy your generator is, consult the manufacturers plate on the engine. This will give you the weight in kg or lb. An example would be a 250KVA Cummins Generator weighs between 3.4 and 4 Tons depending on wether or not is has oil and fuel in it.
We understand the critical importance of fast delivery to avoid furthert power interruptions. We are often able to provide our generator transport service the same day through our extensive fleet of crane trucks.
Certified Operator/Rigger
Public Liability Insurance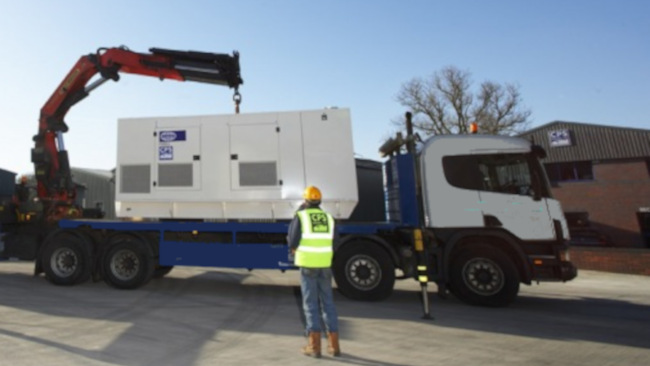 Using a crane truck to move a generator
In most cases a crane truck is the most effective and best value for money when moving and positioning a generator. Crane trucks are able to lift, transport and offload the generator making it very cost effective for single generator moves.
Rear Mount Crane Trucks
It is dependent on the site as to the use of a cab mount or rear mount crane truck. For example, if the truck needs to offload in a narrow driveway to offload, a rear mount would be best suited, where the crane sits at the rear of the truck.
Cab mounted crane trucks
Cab mounted crane trucks are the most common type with the crane mounted behind the cab. This configuration gives greater support from the carry deck when lifting.
It is very important to be specific about the loading and offloading terrain and accessibility for the truck.
Multiple generators or abnormal loads
If there are multiple generators, it is likely more cost effective to load a lowbed truck with the generators and then use a crane truck to offload them at each location, offloading the first from the crane truck.
Service limitation
Crane Hire SA are not electricians and do not provide a generator commissioning service. Our service is limited to the collection, transport, delivery and positioning of the generator.
If your generator requires a concrete plinth, please ensure that the plinth is dried and ready to take the weight of the generator.
Our operations teams are happy to liaise with the electricians, manufacturers, or commissioning company to ensure a smooth job. It is often a good idea to have the electricians on site at the time of delivery for any positioning issues which may not be apparent to the rigging team.